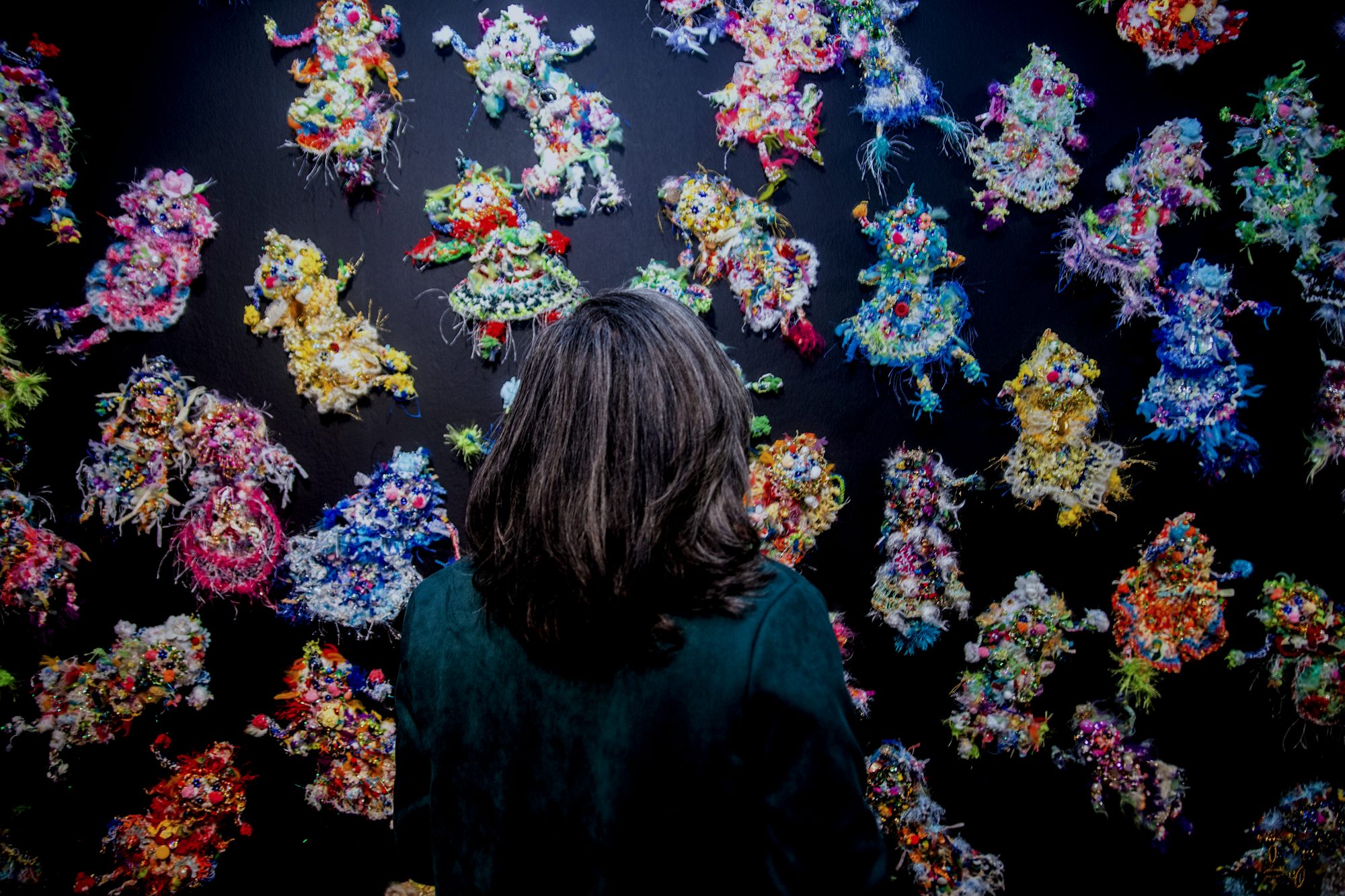 WEAVING (THE) COSMOS
The Japanese artist and fashion designer Fukuko Ando, who worked and lived in Paris for the past 25 years, created a first series of 140 dolls in crochet during the summer of 2005. Having recently moved back to Japan, she produced a new series of 112 dolls which is now presented for the first time in this exhibition, alongside with a part of the 2005 production, previously shown in Tokyo and Paris. They are 25 variations of the seven sisters of the Greek mythology after which the seven brightest stars forming the Pleiades were named: Alcyone, Merope, Maia, Electra, Taygete, Celaeno, Sterope.
The artist endowed each doll with different codes and messages, based on the concept according to which "no human bodies are the same, and yet we are all essentially united in the cosmic dance of the universe". Perfecting her technical skills while collaborating with Christian Dior and Christian Lacroix, in Paris, Ando went on to create her own collections. Her work is made out of the finest fabrics and materials, through a long, unique and rigorous manual process. Ando's dresses reflect her deeply spiritual and mystical vision of life.
The 12 Dresses ensemble refers to the four fundamental forces that govern all interactions in the Universe. Consciously eschewing fashion's traditional patterns and procedures for confectioning a garment, Fukuko Ando creates dresses that first and foremost respect and follow the shapes of the human body. Skilfully harmonising classical creative techniques with the natural form and movement of the body, she sublimates both. Through her wearable and danceable luminous and colourful visual poems, Ando explores the secret magic of lively matters with which she re-enchants the haute couture, intertwining being and appearing, ancient wisdom and a joyful spontaneous infancy spirit.

The Japanese born designer Fukuko Ando has a very personal vision of fashion and of the creative art of garment design. As her unique process and style have developed over time, Ando has stepped beyond the usual confines of Haute Couture to explore how the pieces she creates may express or manifest different aspects of our cultures, of our relations to nature and of our spiritualities.
With her creative imagination, Ando explores the invisible and energetic dimensions of the matters she uses. Confectioning the dresses directly on wood mannequins surrounded by mirrors, she is intuitively guided to follow a natural and fluid yet sophisticated movement that consists of folds, rays, grooves, veins and ribs, volutes and irregular curves forming a complex global structure. Differing from straight lines, repetitive geometrical patterns and flattened shapes, her dresses are characterized by an organic, ever-changing dynamism. Thus, several heterogeneous effects are produced such as asymmetrical reliefs and protruding volumes, elongated or truncated planes, transparencies, reflections, opacities and openings. A certain play of shadows and shimmering lights is also skilfully produced in order to reveal the quintessence of each piece, visually manifested through singular forms, colours and textures to wear. When one looks at the pieces closely, their poetic vibration can be felt.
Throughout her career, Ando used an equally astounding presentation display. Instead of the traditional models' walks on the podium, she regularly worked in collaboration with professional dancers and choreographers to exhibit her creations.
12 Dresses
Paris, France, 2008-2012.
Made between 2008 and 2012, the 12 Dresses ensemble explores the tension between stillness, movement and flow, between infinite variation and oneness. In a very innovative and singular way, Fukuko Ando fuses design and haute couture with the art of sculpture, as she elevates the fine materials and garments to symbolic and mysterious apparitions. With a distinctive mystical twist, Ando expresses her deep spirituality through these twelve dresses. Each of them is conceived as a codified message, an in-depth journey from the maze of the atomically tiny to the astronomically vast.
As indicated by their titles, and according to a peculiar syncretism between Kabbalah, Christianity and Shintoism, the whole ensemble contains numerous references ranging from ancient alchemy and esoteric myths about origins, spiritual quests and evolution, to the notion of harmonia mundi, along with the four primary elements and the stages of human life. All dresses are characterised by their richly handmade embroideries, their uniqueness and magnificent vibrational presence.
you can visit the official site of this collection by following this link:
https://www.12robes.com/
Katherine Sirois / Curator
---
Fukuko Ando / Dolls and Dresses
Jorge Govea / Sound Design

Joana Belard da Fonseca / General Coordination
Katherine Sirois / Curator
Pedro Gonçalves / Design
Sara Fevereiro / Translation
Vprint – Produção de Imagem Lda. / Lettering

David Paquete, Maria Vieira, Helena Solano, Assembly and, Jorge Tomaz, Carlos Sobral / Assembly and Lighting
Collaboration:
Câmara Municipal de Lisboa, MUDE- Museu do Design e da Moda

Special Thanks to:
Iñes Correia / Pedro Gomes / Fundação Ricardo Espirito Santo


---