May all people in the world be content. May they see the lotus spark in all others, and may the light of love shine in our hearts. May all live in harmony.

Fukuko Ando
The Dress as a Sculpture
In my work, a piece of fabric is transformed into a dress through an intense and unbroken engagement with each wave of change in the fabric's own swell and movement.
The starting point is a flat piece of fabric. Sewing a raised broderie into this flat surface introduces a new three-dimensional note, creating waves of movement and new shapes and swell as the fabric responds.
I make a single cut into the new swell in the fabric. The fabric responds again and
I follow the fabric's waves of movement intuitively. From action to response, the story of this dress is being written, moment to moment, as each change and response happens.
My hands have to see and grasp the story that the fabric is telling. The fabric takes on a life of its own, with new mandalas flowering in it, one after another.
More complex shapes are created by cross cuts, twists in the fabric, new broderies.
After a long time, my hands become still. The dress is complete: a piece of fabric has become a living mandala.
I work so that different dimensions can flower one by one on the same piece of fabric, just as the petals of a lotus flower open one after another.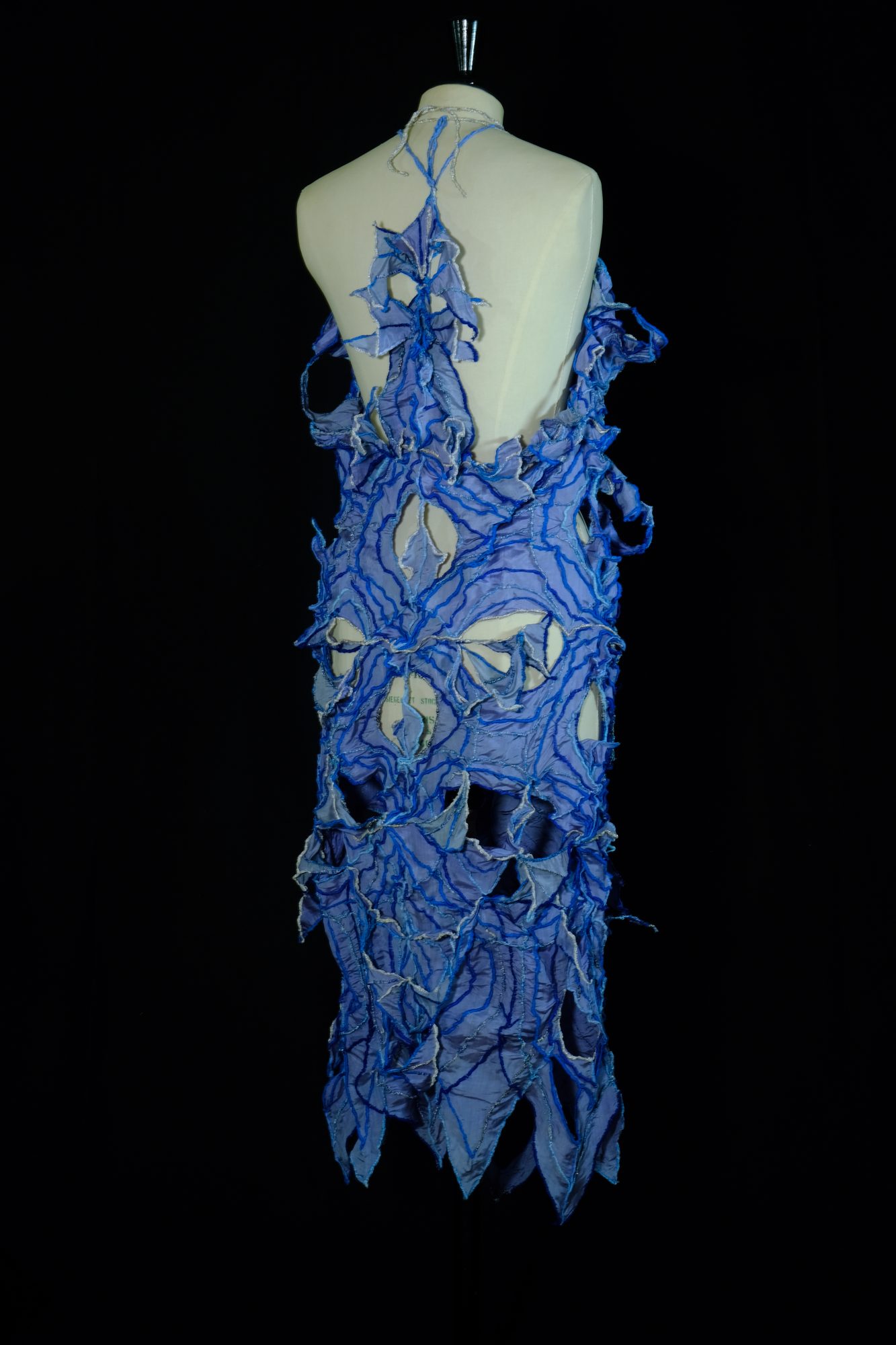 Like the cell and the body, we can zoom in to see the micro-mandalas sewn into the detail of the dress, and we can stand back to see the macro-mandala of the whole dress.
Fukuko Ando
---
A piece of fabric becomes a lotus mandala dress.
The fabric is like the soil in which to sow the seeds of the mandala.
The needle becomes the mandala seed.
Each stitch draws a new world.
Cutting the fabric brings forth a new dimensional space.
New petals open in a new space. A new life opens skyward.
The opening of a new life expresses the mandala consciousness.
The fabric is imbued with consciousness.
---